Wildly talented artists go unnoticed all the time, despite efforts to push their work into the world. Breaking into the art scene requires luck and network over artistic merits. Additionally, the public's experience of art is filtered through an exclusive group of gallery owners and cultural institution figures who decide which artists are worth your time and money.  

Our cities provide countless surfaces that can be reimagined in creative and dynamic ways. Of course accessibility and legality are major limiting factors. Can we leverage mobile technologies to give artists and the public a new platform for creating and experiencing public art.
Design a mobile app that utilizes emerging image tracking and augmented reality technologies to create a new platform for creating and experiencing public art. Users will use the app to view the world through their phones to reveal artwork that appears to exist on city surfaces via virtual simulation. In this way, the mobile phone becomes a window into a more colourful and ethereal version of the city.

How might we leverage mobile technologies to connect talented artists with a larger audience.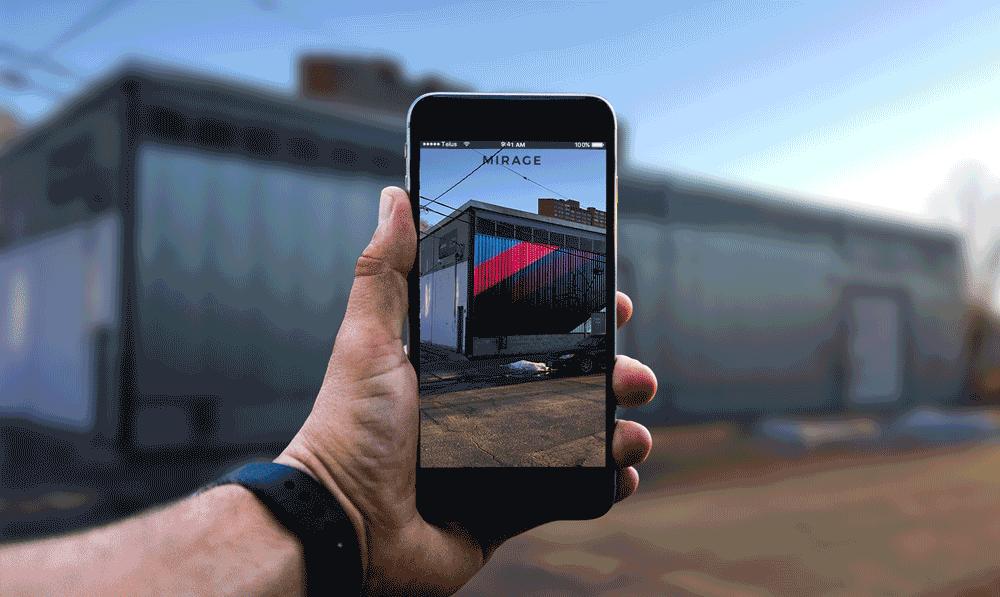 Persona Mapping
An important step in designing the experience is a careful understanding of the intended users. As a designer, it gives you perspective into who they are, what their goals are, where they experience frustrations, and where our best opportunities for design intervention lie. I envision two different users with unique intentions/goals for the Mirage app.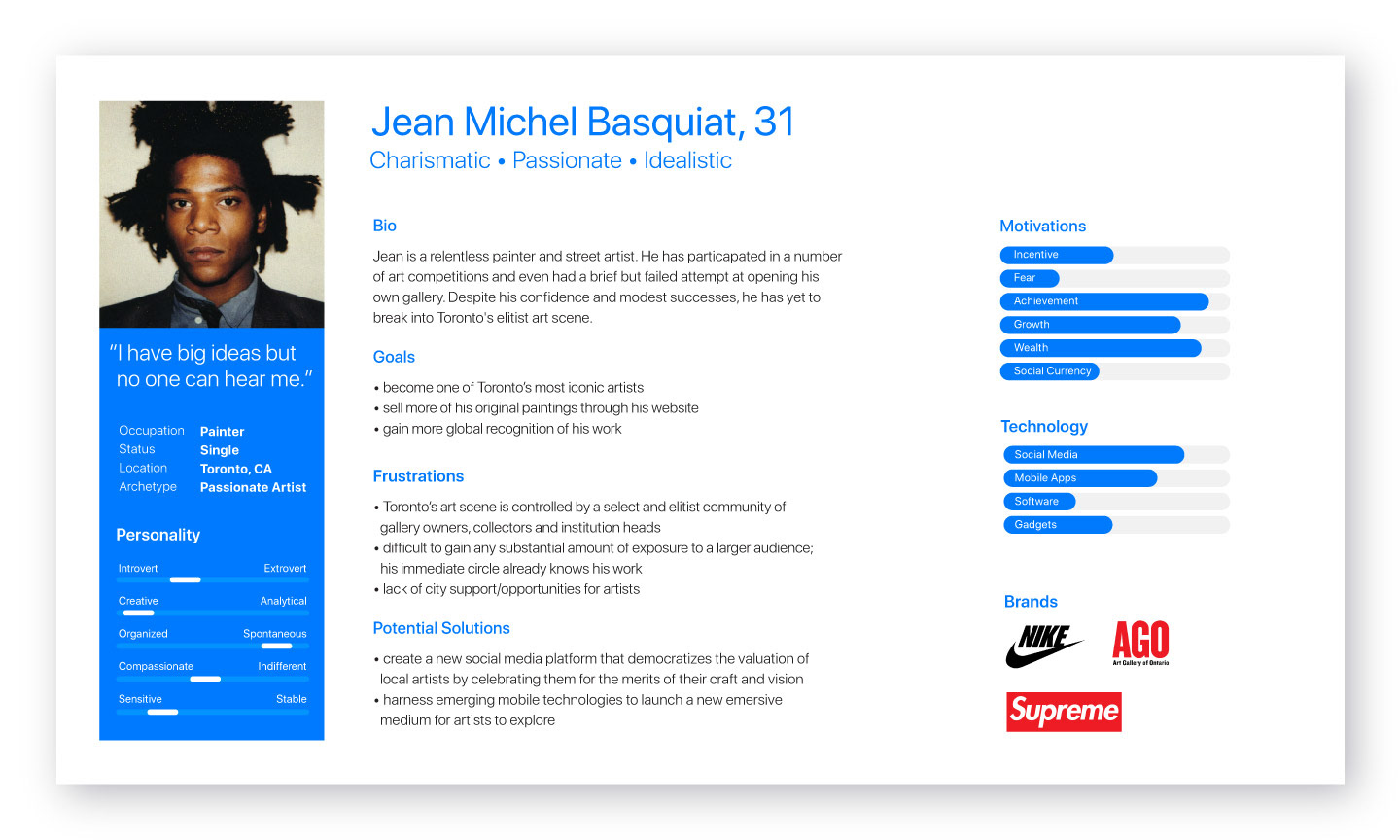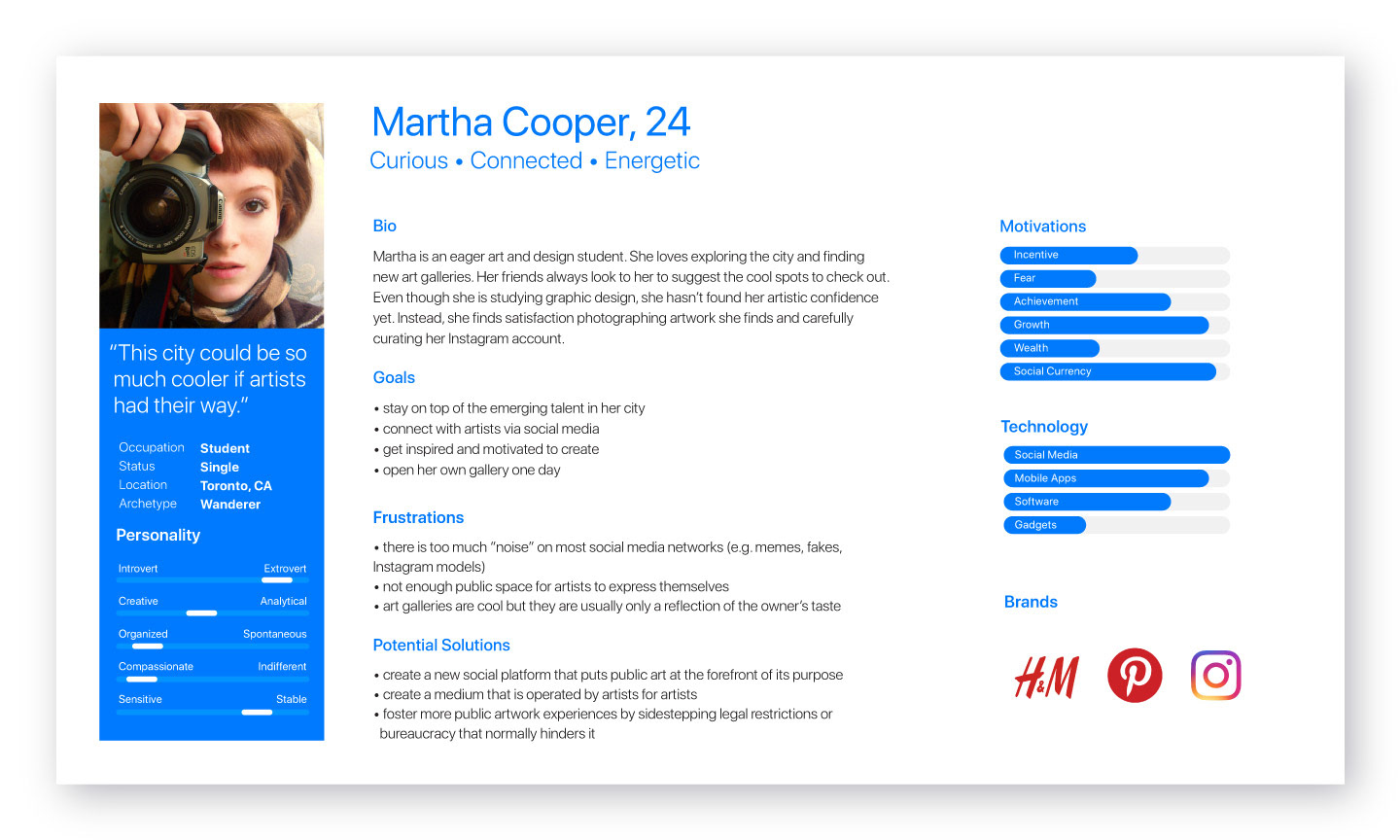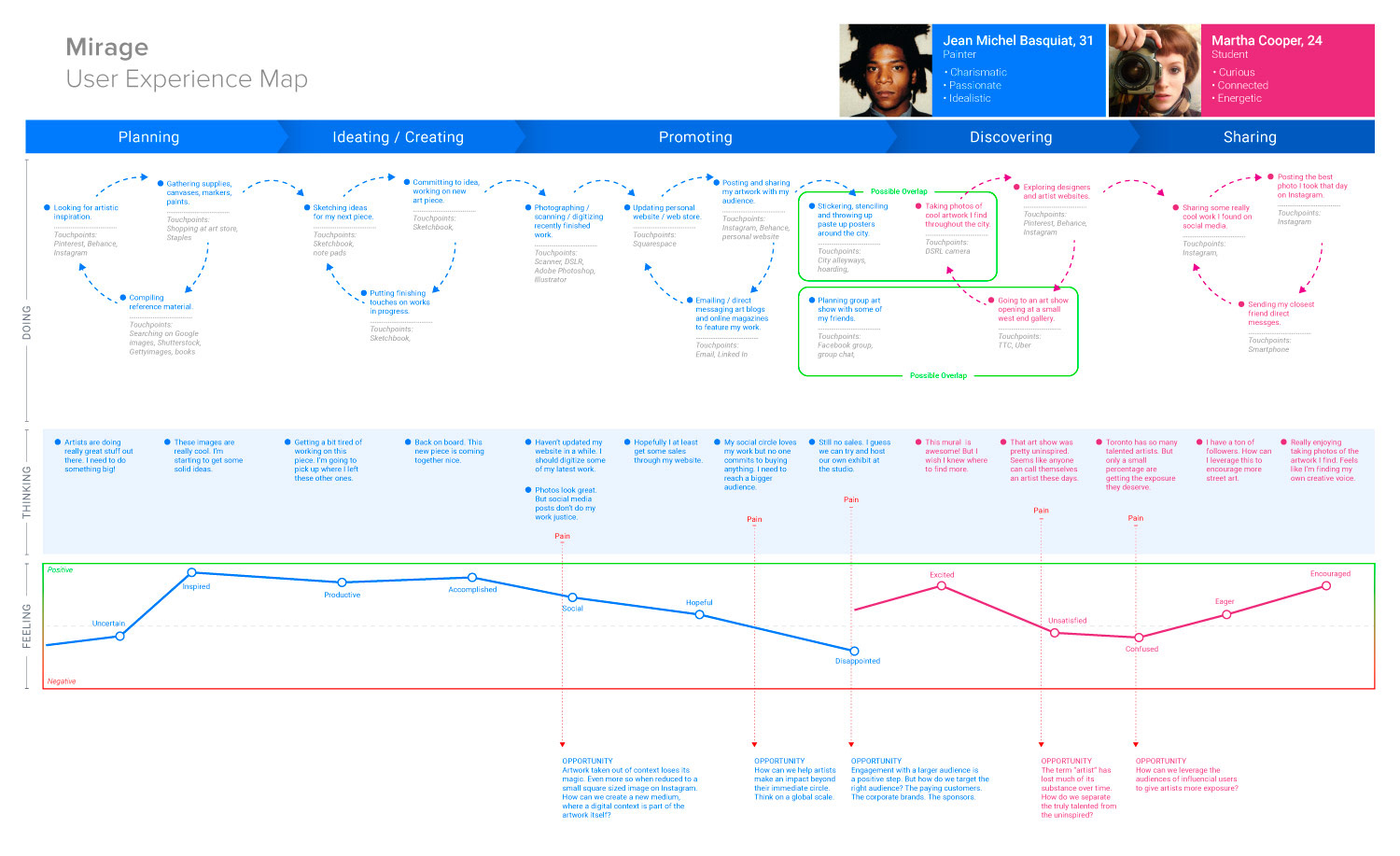 Branding
The name Mirage alludes to the illusionary nature of the augmented reality experience. It can be both convincing and ethereal. The letterforms were drawn to express fluidity and transience.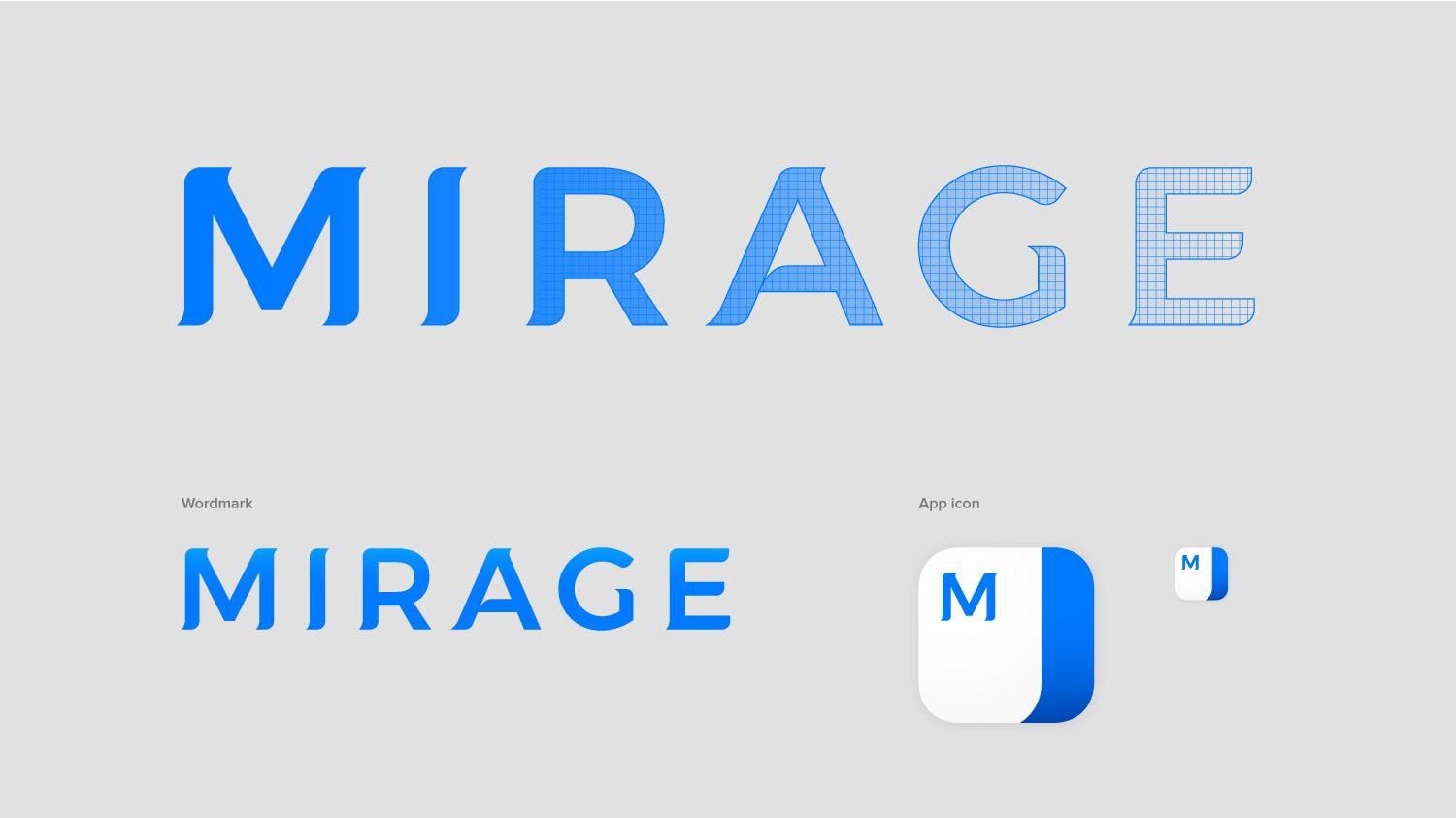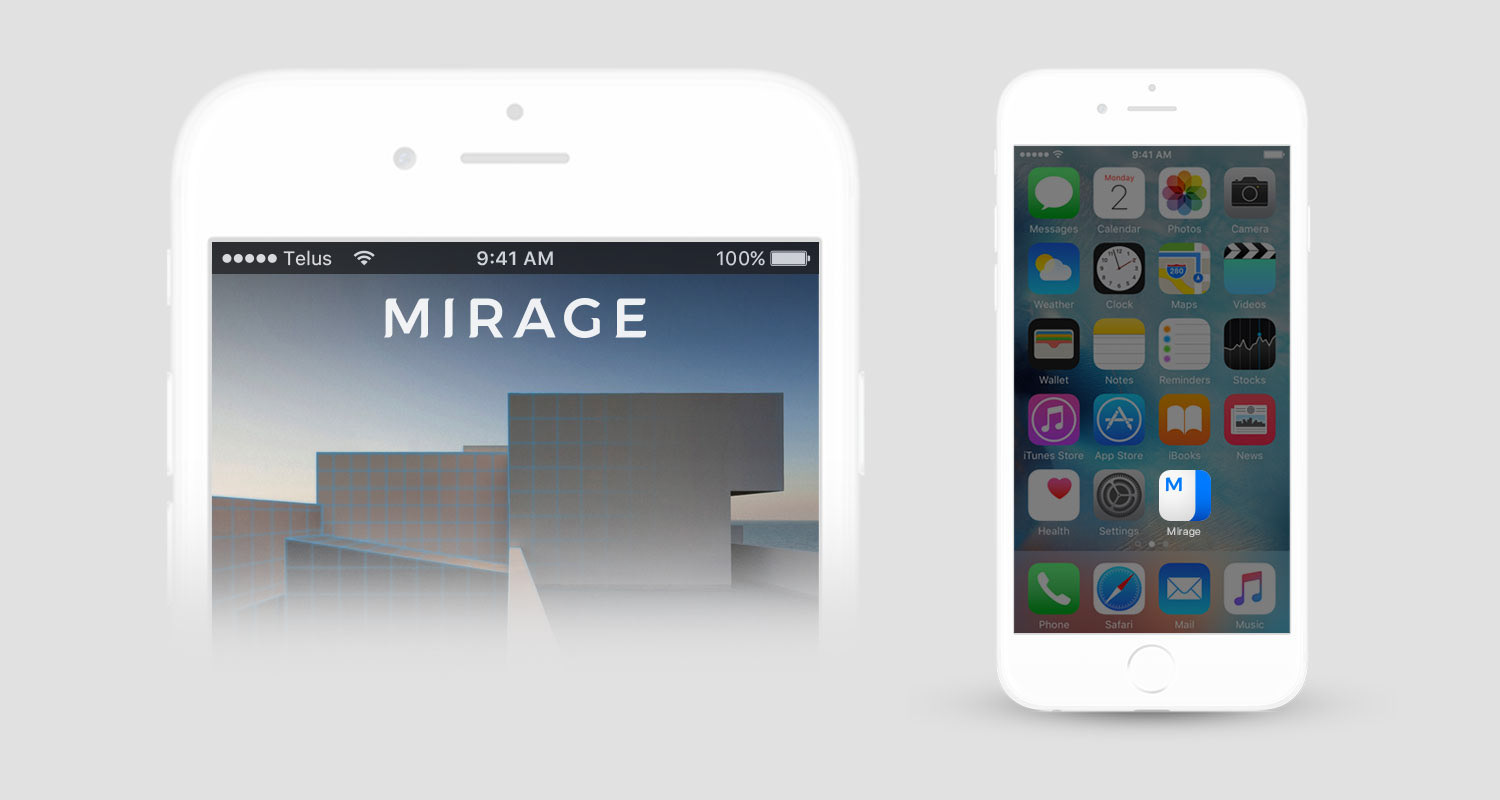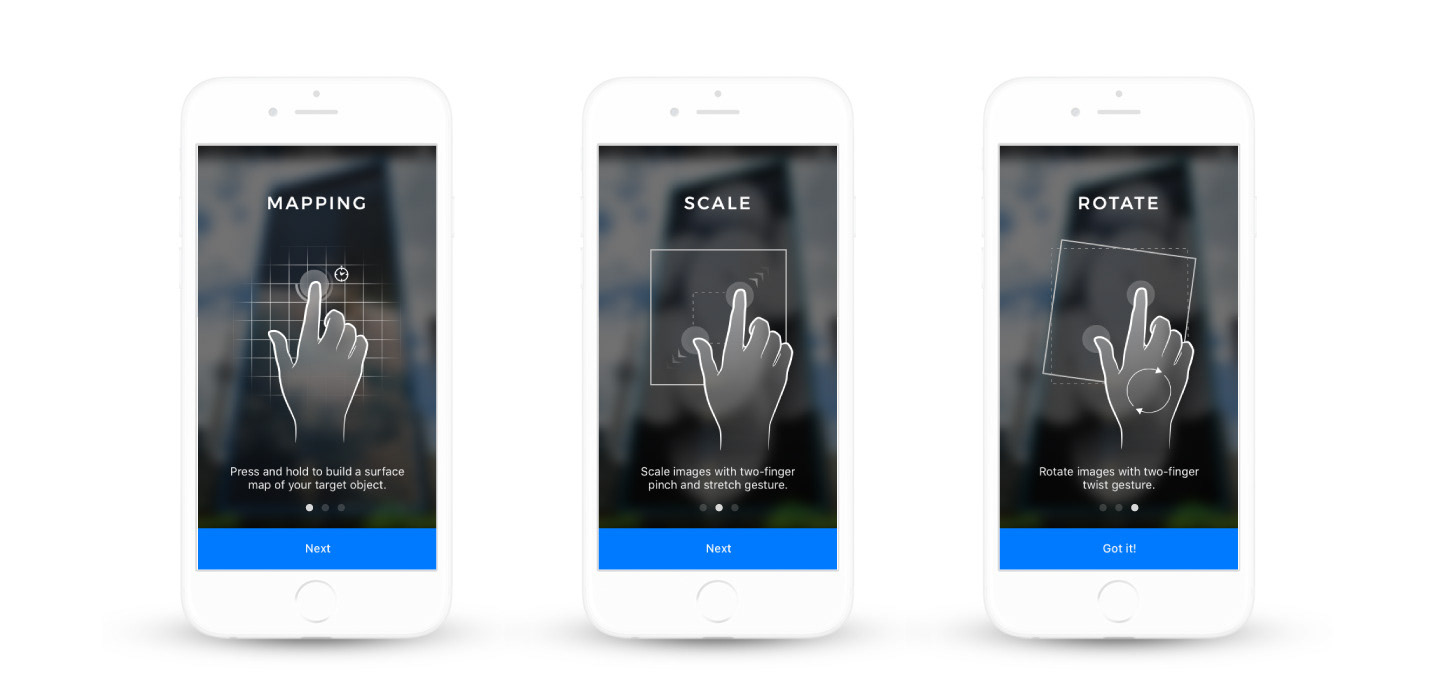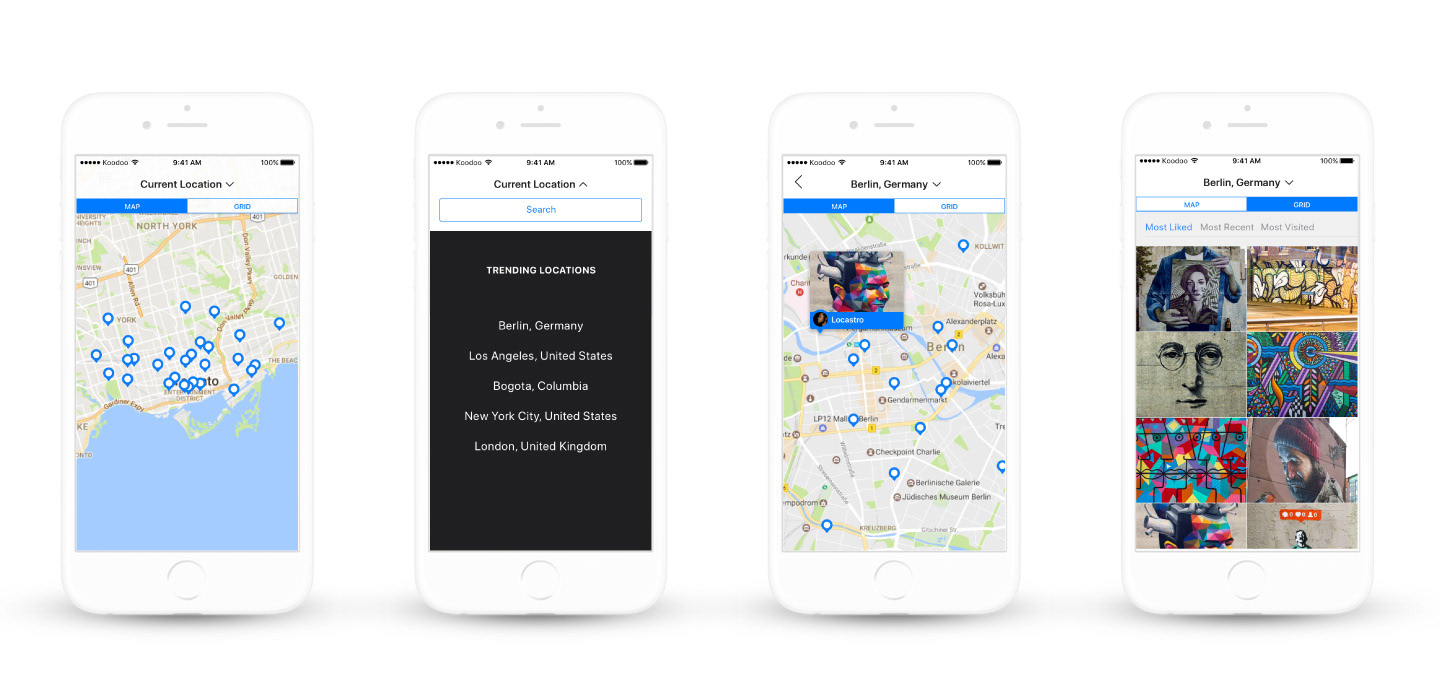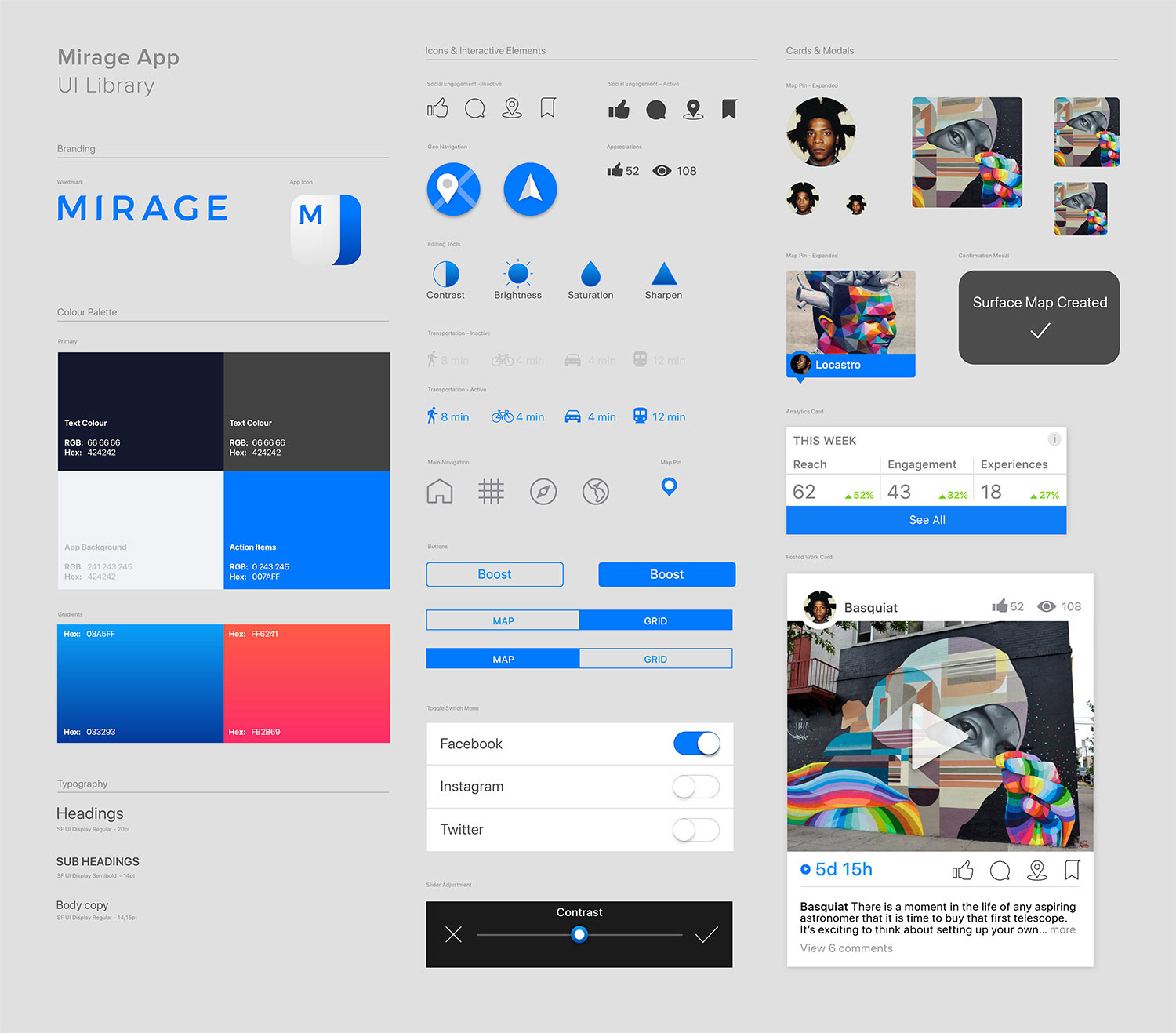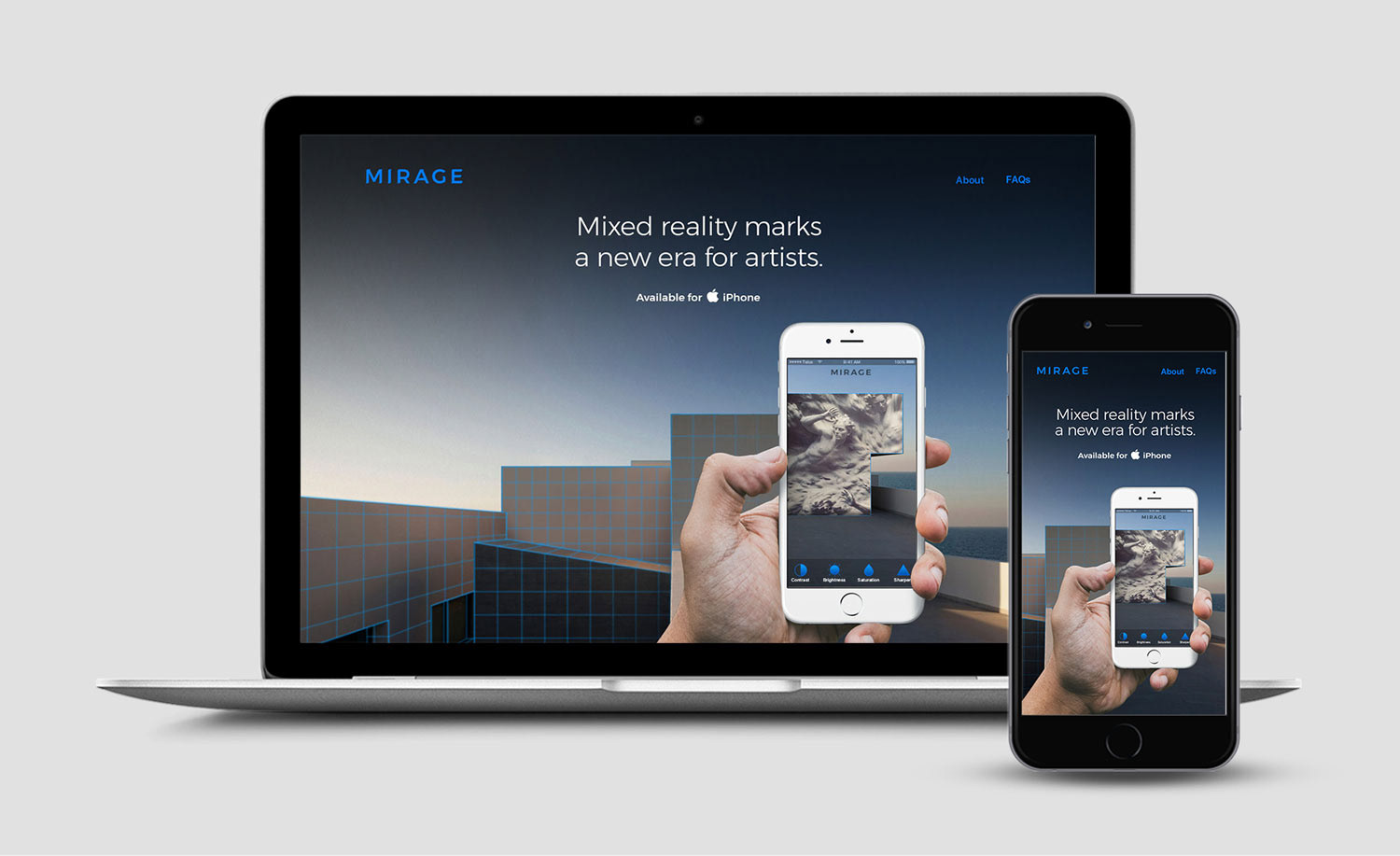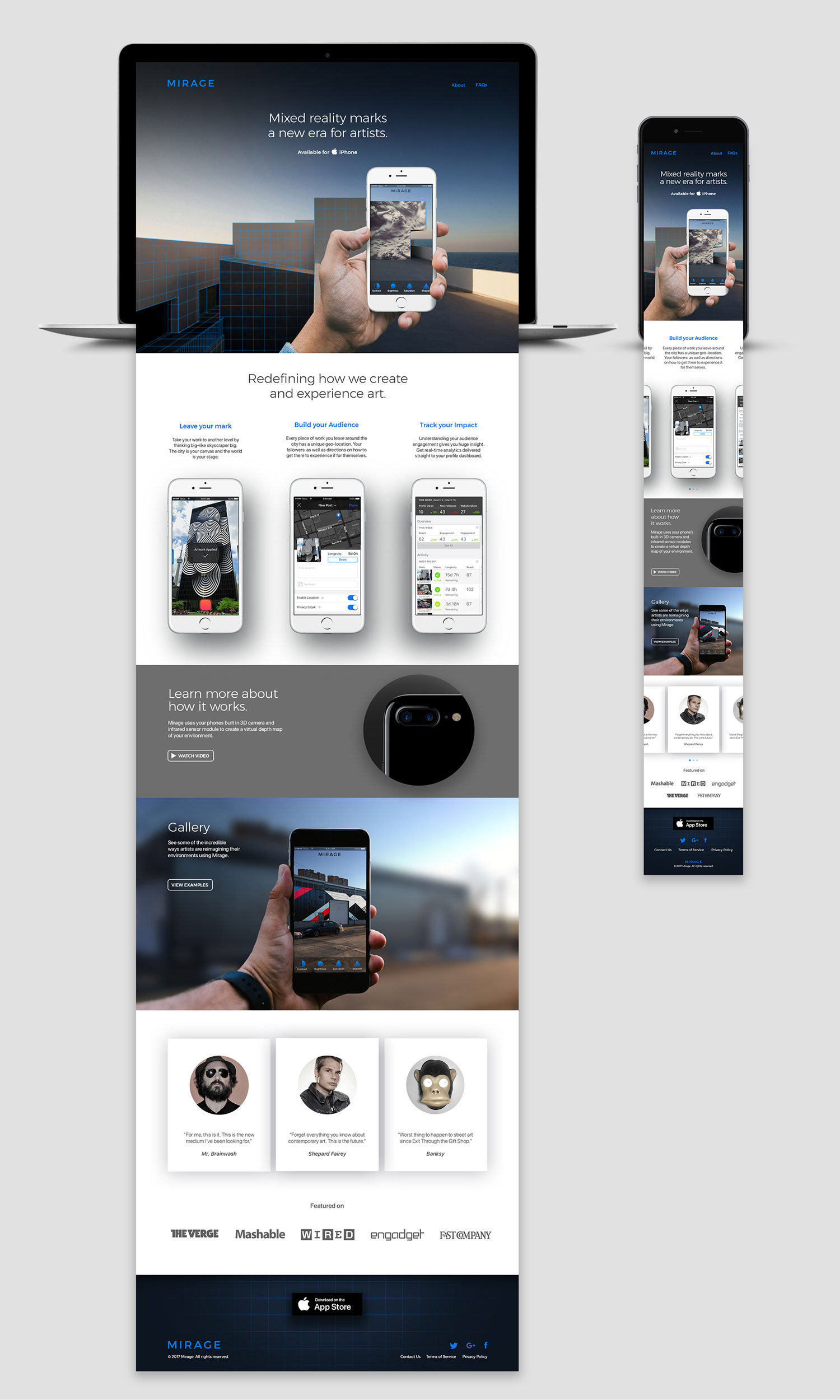 Feasibility
Mixed reality experiences have already reached personal mobile devices, the most popular of which being Pokemon Go and Snapchat filters. These are kitschy applications of a technology that is in its infancy, but carries truly disruptive potential. The reality is that the more complex and immersive the augmented experience the more processing power and sensory input is demanded from your hardware. Add-on hardware like Structure and Hololens by Microsoft are designed to beef up the potential of personal devices. But without these add-ons, smart phones are still years away from offering this type of power. For an experience as robust as viewing large-scale simulated artwork sprawling vast surfaces of buildings, this app is a bit ahead of its time.